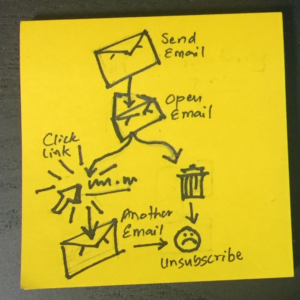 In the past, most marketing platforms worked in the same way. Email, email and more email. 
Marketers would spends hours and days drawing out a flowchart of how a customer will interact with emails. They would ponder over what actions the customer should take based on what was already available on their website. Customer receives email, wait a day, customer clicks email link, send next email, etc.  This looks pretty intuitive, right?
Now let's look at this from the customer's point-of-view…Learn More …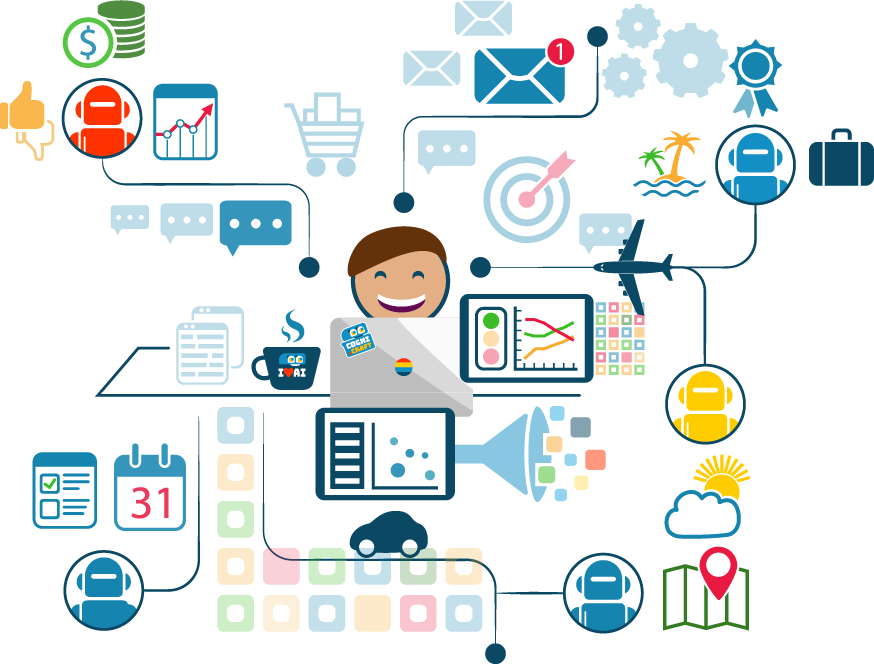 Conversational Artificial Intelligence, aka Chatbots, (think Siri but not just) are an evolving form of Human Computer Interaction (HCI). Forecasts show that the use of messaging and chat based, conversational interfaces will overtake traditional UI in the near future. Why such a buzz?
Conversational interfaces facilitate customers through the customer journey much alike a sales person would. The added feature of a chatbot is that it can access a broad knowledge base and suggest appropriately every step of the way. They can synthesise information into natural language and speak it out to a customer that may be driving their car. These interfaces open up a whole new opportunity in what products have to offer and how they can add value to your sales and customer retention strategy.
CogniCraft supports with consulting, implementation of conversation AI, cognitive agents and chatbot solutions to hyper-charge your sales engagements. We also help our clients to run these solutions from customer engagement to back office operations and monitoring.Learn More
We have all heard of Big Data now. With Big Data we can store a lot of customer interactions, then analyse them later to gain insights about what our customers habits are.
But, hang on a sec, can customers really wait? What we need today is data that can inform us of what is happening, as soon as its happening with deep insights into what's the next best action to take. If we wait for our leads to collected on one day and then processed the next, we might be losing out to our competition without even realising it.
"So what we need today is a way to handle this fast data. It's big, it's live and it needs to be consumed as it arrives."
So how would that work with the IT team? Does that sound like a mega 6-month project? Do they have the bandwidth? Do you need to change the Data Warehouse?
Sounds like a challenge?
CogniCraft helps you to build Fast Data solutions rapidly by integrating your data capture upfront in your user experience without the need for complex backend and reporting projects. These can be integrated at a fraction of the cost of a full-blown project. Once you are happy with the results, your IT team can evolve the solution to integrate it more deeply with their exiting ecosystem.Learn More
We build a bot for your website frontpage within a day
For bots with deeper insight into your customer engagement, you can  expect to see your MVP to be shipped within 30 days. Talk to us